In the spring of 2022, the Wici Association received funding to continue and develop last year's project "Touch Łódź!". We will continue sensory walks in the parks of Łódź and, for the first time, in the Botanical Garden in Łódź. In addition, there will be two educational workshops for children and adults. The first one will focus on creating a sensory path at home or garden, while the second one will facilitate embroidering fabrics in a way they become 3-dimensional and have interesting sensory qualities. The project "Touch Łódź! – Sensory walks and educational workshops" is implemented thanks to co-financing from the budget of the City of Łódź.
The project is conducted by Anna Raczkowska, president of Wici, sculptor, founder of Hap Hap Studio, and winner of the Mayor of Łódź award.
Sensory walks
In the first stage of the project, we will invite the inhabitants of Łódź to take part in four sensory walks, participation in which will be free of charge.
A sensory walk involves experiencing nature and the urban landscape with all your senses: sight, hearing, smell, touch, and prioprioception (ability to sense movement, action, and location in your body).
Workshops
As part of "Touch Łódź!" there will be two free educational workshops conducted by Anna Raczkowska.
1. Sensory paths for children and adults – how to build at home and outdoors?
During the workshop, participants will learn how important it is to explore the world in a multisensory manner and how we can use simple materials to relax the nervous system. Together, we will build a mobile sensory path, which we will further explore using a variety of approaches and exercises. The facilitator will also show how to build a sensory path in your own garden.
2. French knots embroidery – how to create decorative sensory surfaces?
During the workshop, we will focus on developing hand motor skills (precision, dexterity, and coordination of the hands). We will also reflect on how embroidery can become a relaxation technique. We will create an embroidery work together – the facilitator will show modern embroidery methods and techniques thanks to which we can achieve various textures on the surface of the fabric. The workshop will take place outdoors, in the form of a picnic on blankets – we will work in the park, inspired by the structures of the surrounding nature.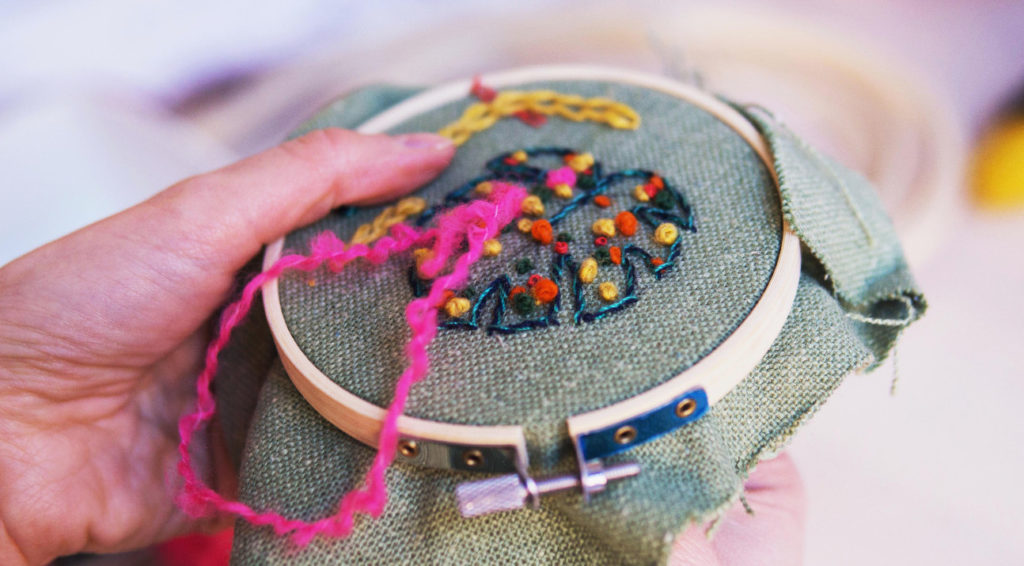 Films
The final result of the project will be two short educational films presenting sensory walks in Łódź city parks and gardens. These virtual walks will be designed to inspire viewers to visit the parks in a more conscious way – multisensory, activating the senses of hearing, touch, and sight. Viewers will also gain a new perspective on the sculpture – the artist's perspective. Have a look at the films that we created in the previous edition of the project and also to visit our YouTube channel.
Promotional partner: Łódzkie Centrum Wydarzeń.
"Touch Łódź! Sensory walks and educational workshops" was funded by Łódź City Council.