Too shy to teach
Are you an introvert? I am. I thought I would like to run workshops and teach tablet weaving. But it turned out that leading a class, organising it, and preparing for it stresses me a lot. In the end, I prefer not to do it. But still, I do want to share what I have learnt about the beautiful craft – tablet weaving. It seems that writing about it is my thing. I like to do research, make graphs, take pictures, and put it all together in one narrative. Here is my first booklet – Tablet Weaving For Beginners: Introduction and 10 easy patterns for 8 tablets.
It's for absolute beginners and gives you some basic information which is enough to make simple belts. I did my best to explain how it all works, though I know that we all learn in different ways. If you are interested in how I see tablet weaving, the booklet is now available on Amazon in the Kindle and paperback formats in almost every country in the world. I am skeptical of Amazon but the truth is this company gave me the opportunity to distribute globally what I wanted to share. The book in print and pdf is also available on Etsy.
AMAZON: Tablet Weaving For Beginners: Introduction and 10 easy patterns for 8 tablets
or paste this into your browser: https://amzn.to/3K5pjw9
ETSY: Tablet Weaving For Beginners: Introduction and 10 easy patterns for 8 tablets
or paste this into your browser: https://etsy.me/3pGSLiN
Contents
When I rotate tablets, slide them on the yarn, and arrange colours, people who see it often say that this is some kind of magic. Well, it is hypnotizing to watch someone weaving using wooden tablets but the technique is not very complicated. The idea behind my booklet is to convey a simple, step-by-step introduction to tablet weaving. I imagined that I am explaining it to someone who is sitting right next to me, one step at a time. For this reason, the booklet contains no detailed explanation of the mechanics, the presented patterns are very basic and do not require you to rotate cards individually. I thought it is easier to handle all cards as a pack in order to let your hands get used to all the movements and positions.
I believe the way to learn is to start with simple tasks and basic information. Once you master those and decide whether you like the activity, there will be time to get professional books, buy expensive courses and look for in-depth knowledge. My goal in this booklet was to encourage someone curious about tablet weaving to try a couple of patterns that all can be done on one warp. Minimum effort when it comes to yarn and warping, maximum learning when it comes to mechanics, patterns, and hand movement.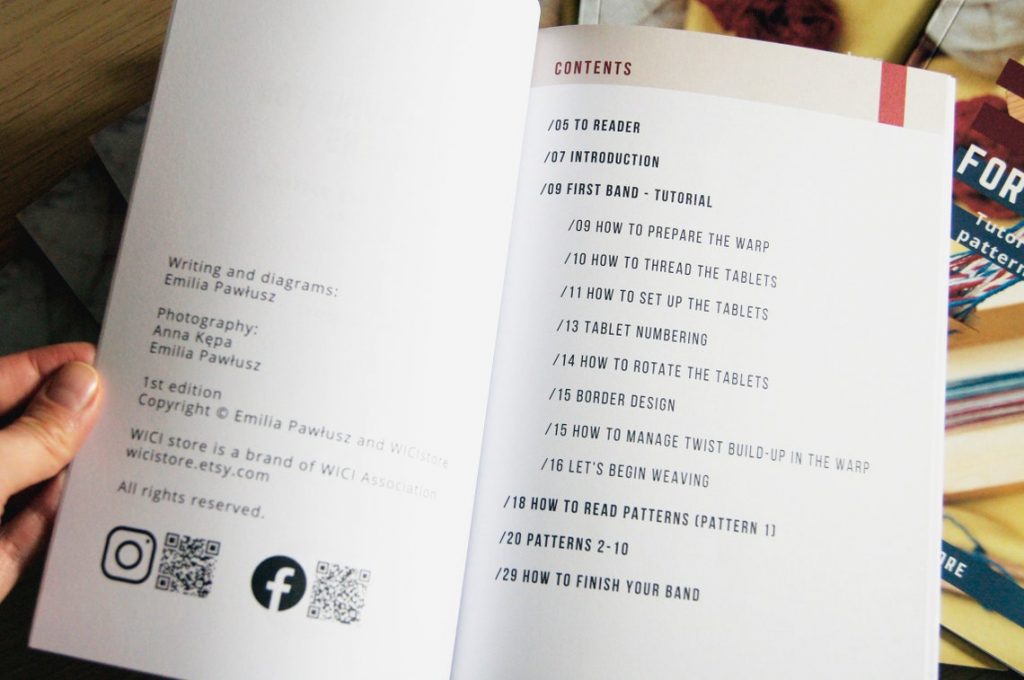 Tablet weaving for beginners – is the book any good?
When learning manual things all the senses are engaged. We learn by observing, reading, listening to an explanation, reading it, or seeing a series of pictures or videos. There is hardly a source that can provide all of it so the usual way to go is to look for knowledge in a variety of places.
I learnt how to weave by reading a blog with very simple instructions and pictures. A couple of months later I bought specialized books like The Techniques of Tablet Weaving by Peter Collingwood. It is my go-to book when it comes to very technical questions about different kinds of tablet weaving. I have always liked to understand how things work in detail. I like to watch the process on videos online and read step-by-step instructions. Observing people weaving in real life hardly works for me, I focus on the person and the environment, on the whole situation rather than the hand movement. I like to learn on my own, without being observed. If any of this sounds familiar to you and you can relate to my style of learning, perhaps my booklet will be a good choice for you. Below are some of the reviews for Tablet Weaving For Beginners: Introduction and 10 easy patterns for 8 tablets written by people who bought it in pdf on Etsy. The printed edition contains the same information.

Very useful pattern and instruction. Thanks very much.
This booklet is the best! It helped me immensely to learn about tablet weaving! Glad I found this shop!
This is a great beginner's guide! Systematic and thorough.
Perfect guide for beginners!

Curious what it looks like inside?
Last but not least, I would like to invite you to my Instagram where I post my works, share insights about tablet weaving, and publish patterns. Hope to see you there!