How business can combine economic success with environmental and social responsibility? How can companies in the fashion industry innovate, create fashion and be sustainable at the same time? The TECOFASH consortium was established by seven partners (including the WICI Association) from five EU countries whose sphere of activity is concerned with entrepreneurship, fashion and textile industry. We have combined our experiences and expertise to create innovative learning material for small enterprises and aspiring entrepreneurs in the fashion industry to operate in a more sustainable and digitally advanced way. We will produce all of that and release it for free on an open access basis thanks to the generous funding from the Erasmus+ Programme.
What is wrong with the fast fashion industry?
The textile and clothing sector is among the most important industries in the EU, standing out on the global market with high quality and heritage, but also innovation in production processes and products. Based on the latest available data from 2017, the textile and clothing sector in the EU alone is estimated to directly employ nearly 1.7 million people, in over 171,000 companies, with a turnover of EUR 178 million (Statista, 2018). However, fashion is one of the most polluting industries on a global level. In the last 15 years, clothing production has doubled. Large amounts of nonrenewable resources are extracted to produce clothes that are often used for only a short period. The mass production process poses major threats to the environment, such as water contamination (use of chemicals and dyes), transportation costs, toxic fibers which end up as sea waste, and finally, the short life of clothing and accessories. The industry has also a negative impact on local communities and society at large. While some changes have been applied, the sustainable fashion industry is still a project to build. The TECOFASH consortium wants to raise awareness about the environmental and social costs of fashion production. We will inform, educate and provide collaboration opportunities for young and experienced fashion business owners to build profitable companies in harmony with the environment and people. This will be achieved by providing training on alternative business models which prioritize sustainability and change the way success in business is defined.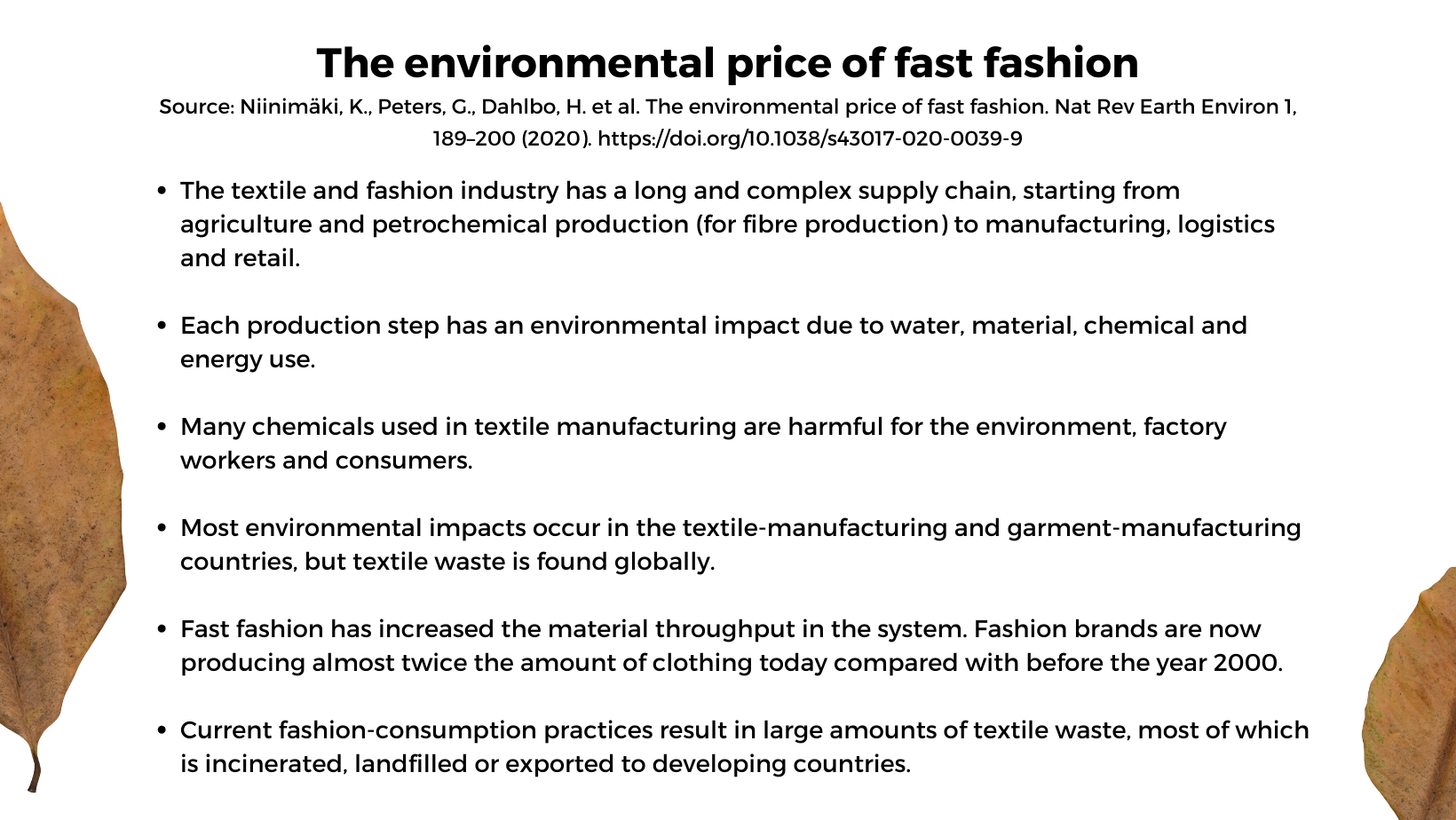 What is the future measure of success?
Facing the growing environmental degradation and socio-economic problems, it becomes self-evident that money cannot be the only measure of business success. Many companies realize that and decide to implement changes in how they see their growth and development. You have probably heard the term corporate social responsibility (CSR). It refers to practices and policies undertaken by corporations intended to have a positive influence on the world. CSR-like policies are also adopted by small and medium companies (SMEs). In TECOFASH we want to show small business owners that they can go even further and redefine the notion of a company's growth and profit more profoundly. One of the pioneers of thinking of profit beyond money was John Elkington. He suggested that businesses should commit to measuring their social and environmental impact—in addition to their financial performance—rather than solely focusing on generating profit, or the standard "bottom line." His idea is known as the triple bottom line theory.
"The triple bottom line wasn't designed to be just an accounting tool. It was supposed to provoke deeper thinking about capitalism and its future." —John Elkington
Planet, people, profit
The triple bottom line illustrates that if an organization is only focused on profit—ignoring people and the planet—it cannot account for the full cost of doing business and thus will not succeed long term. This is because an Excel sheet with profit and losses does not represent the full picture of the company's impact. It ignores the influence on almost all the related stakeholders such as employees, customers, suppliers, the community, and the natural environment. Therefore, Elkington's idea is to expand business success metrics to include three bottom lines: contributions to environmental health, social well-being, and a just economy. Thhttps://sustain.wisconsin.edu/sustainability/triple-bottom-line/ese thee are called "3Ps": planet, people, and profit.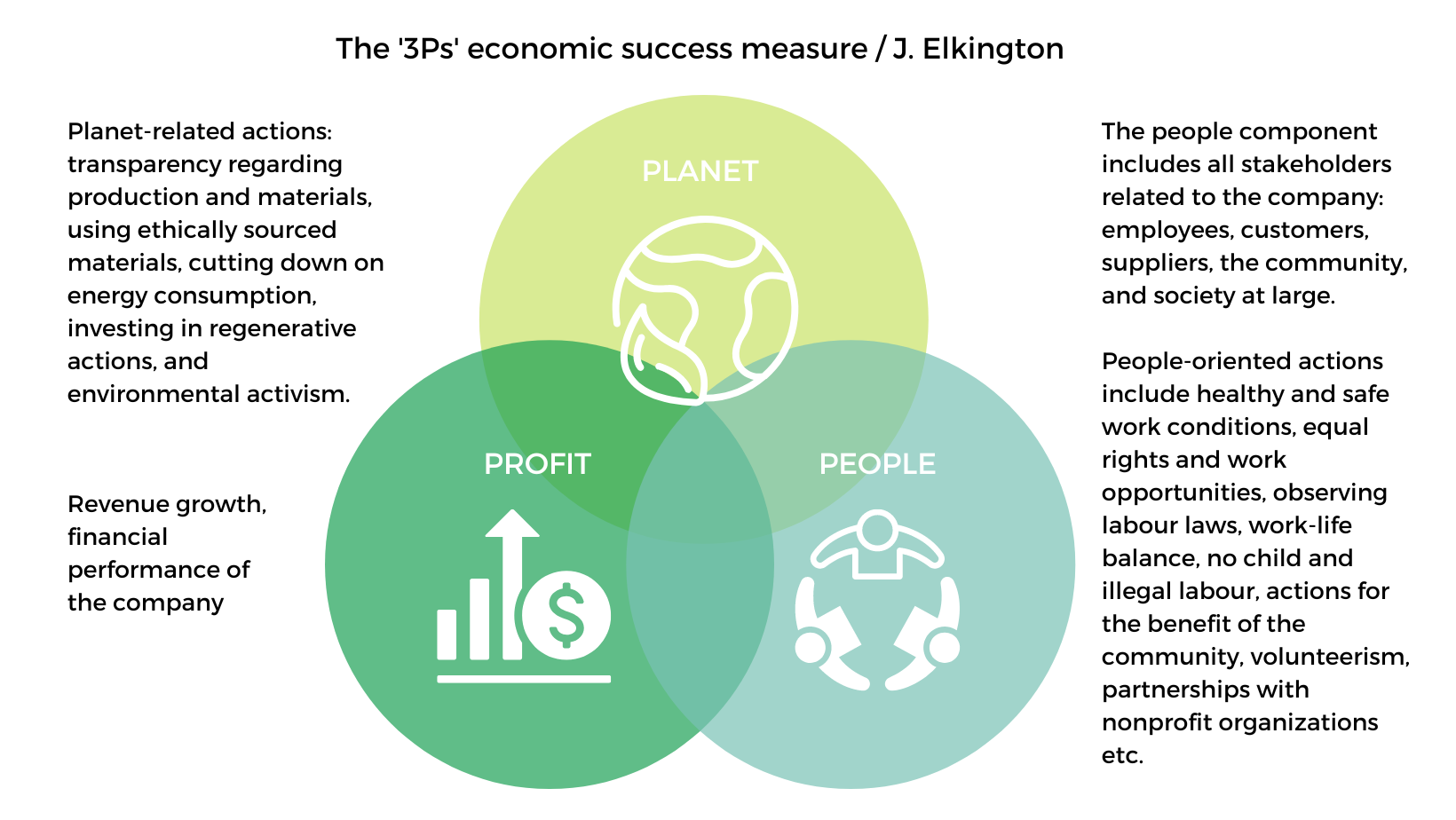 See the video to uncover the relationship and dependencies between the social, the environmental, and the economic.
TECOFASH – activities and results
Elkington's notion of a sustainable business success measure will be the reference point for the activities and materials the TECOFASH consortium is going to produce. We will deliver a research-based e-learning platform for young and experienced entrepreneurs which will help them reskill and transform their business toward sustainable and digitally advanced business. The training programme is oriented towards the following:
Connecting the companies from the fashion and textile sector with the younger generation, and attracting new talented workforce to this industry,
Linking representatives from the sector with training experts,
Delivering transparent and open-based content, without conditions and free from constraints,
Focus on the skill gap, such as awareness of the production processes, and the digital and green skills,
Making full use of the digital technologies and virtual collaboration to contribute to the up/reskilling of the sector.
I. Training package on environmental problems resulting from contamination and unsustainable production.
II. Training package on managerial and transversal aspects related to the business models and digital and lean management.
III. FINAL RESULT: Online platform. It will host the training packages and a social component that will enhance entrepreneurs' collaboration.
Partners
Association for the Promotion of Old Crafts and Culture "Wici" – Poland
Centre For Education and Entrepreneurship Support – Poland
Chamber of Commerce and Industry in Katowice – Poland
Institute of Entrepreneurship Development – Greece
Lithuanian Apparel and Textile Industry Association Latia – Lithuania
Lottozero – Italy
MARKEUT SKILLS SOCIEDAD LIMITADA – Spain
Newsletters
Project number: 2021-1-PL01-KA220-VET000034636
Project Duration: 01.01.2022 – 01.01.2024